Biography
"I am the second of six children, all very close in age. My parents encouraged each of us to be an individual. It was their way of lessening the competition between us. As a child I was known as the family artist. Paintings and drawings I did when I was as young as twelve still hang in my parents' home. And I was creative. I drew funny signs that I taped around the house. I also made up stories to entertain my younger brothers and sisters. One sister's favorite story was about the girl who planted flowers in her shoes. I'm still making up stories.
"We lived in a large house with a whole unused third floor, unused except for storage for our extended family. For thirty years my parents kept in an otherwise unused room unwanted wedding gifts belonging to a relative who had moved overseas -- an electric fan, dishes with a strange bird pattern, luggage, pots, and lots of cups and glasses. When the relative returned to the states, he was surprised my parents had kept all that, and he and his wife still didn't want all those gifts. But what a wonderful room to crawl between the boxes and suitcases and imagine all the stories I could tell!
"I never thought I would become a writer. I graduated college in 1968 with licenses to teach history and math. I taught math in the New York City school system for nine years, and I went to graduate school. I also drew cartoons. I even sold a few.
"In 1971 my three-year old nephew came to my house and asked me a question. And he kept asking questions. When he left, I had all those questions swirling in my head and that led to my very first published story, A Little At A Time. I sent it ro Random House, my first story and my first submission, and after six months of consideration, it was accepted for publication. The editor was impressed at how I had captured the voice of a young child in all my questions. That was easy! I just listened, remembered, and wrote. Then, as a math teacher, I wrote a few math books for Thomas Y. Crowell, now a division of HarperCollins. In 1973 I married and in 1977 our first son was born. I was granted a child-care leave from teaching and while I was caring for my infant son, I created Cam Jansen. Happily those books led to many others.
"For me writing is a process. I begin with story idea, with the main characters, and the setting. I struggle most with the "voice," – how I will tell the story. For me writing involves constant revisions. It's so much easier, I think, not to try and get the story just right in the first draft, to leave that for the second and third drafts. My best stories have been rewritten scores of times. "
"I began writing mysteries for children more than twenty-five years ago with my first Cam Jansen book. With that manuscript as with BONES AND THE BIG YELLOW MYSTERY, I did not begin with the story, but with the character. Cam Jansen is based on an elementary school classmate of mine. Jeffrey Bones is based loosely on the self-assured, determined children I often meet on school visits. It was actually while speaking to a large audience of elementary school children that I was first inspired to write about Jeffrey Bones. While still talking, I took out the folded paper I always keep handy to record any sudden burst of inspiration and wrote the line that started it all, "Everyone needs Bones," what Jeffrey tells Mr. Green which reveals so much about Jeffrey's character. The line, is funny, too, I think, because of its double meaning.
"In the many years since I wrote my first Cam Jansen, I have written many other books including the Picture Book Biography series, fiction and non-fiction picture books on a variety of subjects including math, science, economics, and the Holocaust, the Andy Russell books, and lately, older level non-fiction including WE REMEMBER THE HOLOCAUST, B. FRANKLIN, PRINTER, and GEORGE WASHINGTON; AN ILLUSTRATED BIOGRAPHY."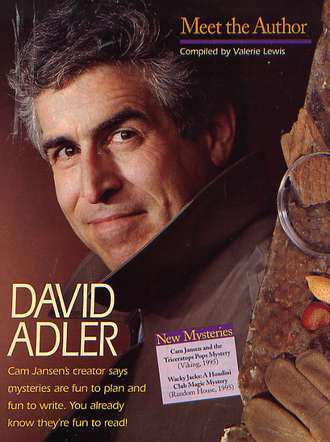 David graduated Queens College in 1968 with a BA in economics and education and licenses to teach mathematics and history. He then worked for nine years as a New York City mathematics teacher. While teaching he studied at New York University and in 1971 was awarded an MBA in marketing. He began work on a PhD in marketing when inspiration struck and he wrote his first book, A LITTLE AT A TIME (Random House, 1976). Suddenly his focus changed from marketing to writing.
In 1973 he married Renee Hamada, a psychologist, and in 1977 their first child was born. By that time David had written several books. He was granted a child-care leave from teaching and while Renee continued her work, David stayed home, took care of their son and wrote in earnest. It was during his first year on leave that he wrote CAM JANSEN AND THE MYSTERY OF THE STOLEN DIAMONDS. The mystery and its solution were inspired by baby Michael and all the things David needed to take along each time he took his son outside.
David's ANDY RUSSELL series was inspired by another family member and the many adventures the family had with his enthusiasm and his pets.